Transmission test bench (click to enter)
 Hits:4786 AddTime:2021/9/20 21:30:18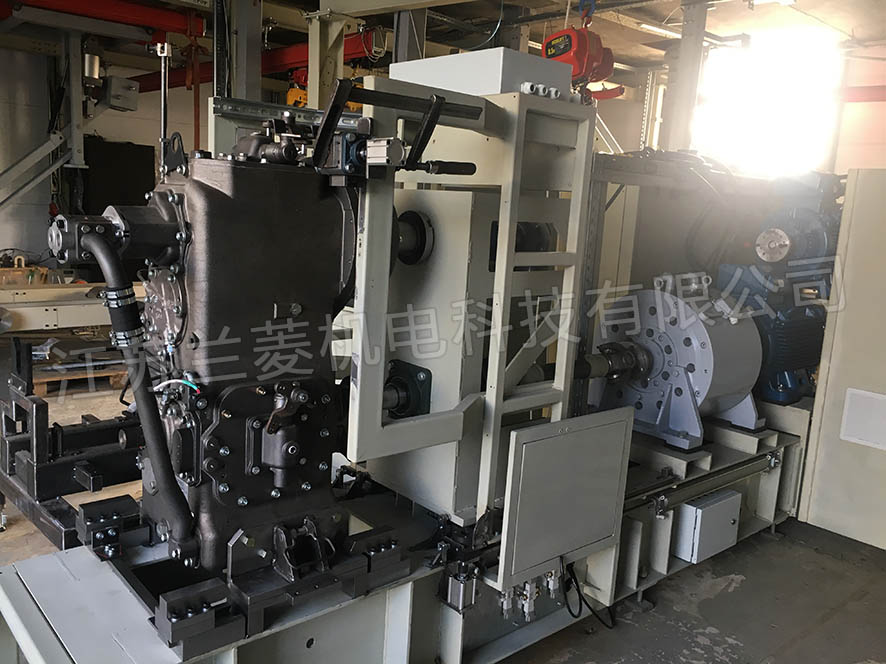 Export to Russia 315KW transmission test bench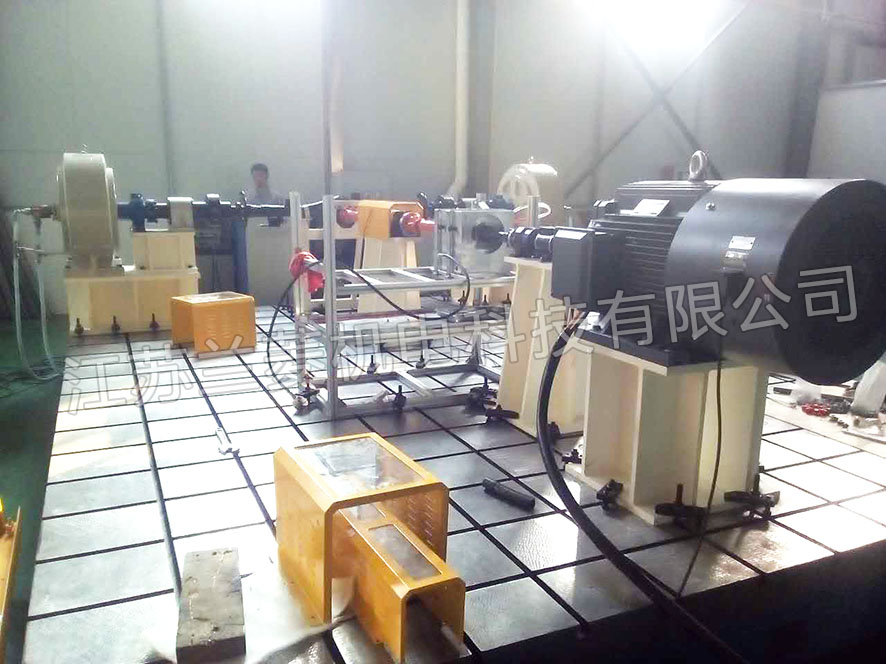 Jiangsu Oerigo New Energy Motor Transmission Test Bench
Equipment name:
Transmission power test bench
Design:
The power uses 160KW frequency conversion motor, and the load also uses 160KW frequency conversion motor (customized)
Using power feedback loading method can save 50~70% of electric energy.
The load motor passes the planetary reducer (speed increaser) to amplify the loaded torque by 5 times, ≈5100N.m
A 5000N.m torque and speed sensor is installed at the output of the gearbox, and the torque, speed and power output by the gearbox are collected by the TR-3S torque and speed power collector.
The temperature collecting instrument can collect 4 channels of temperature. The temperature sensor is a magnet adsorption type, and can also be customized according to customer requirements.
The airtightness measuring instrument measures the tightness of the transmission case.
The installation of the large platform is processed with multiple T-slots to facilitate the test of different types of gearboxes.
The mechanical structure is:
Active motor—transition seat—universal joint—tested gearbox—universal joint—transition seat—torque speed sensor—planetary reducer—load motor
The structure of the strong electric cabinet is:
Active frequency converter-load frequency converter
Detection cabinet configuration:
Industrial computer—LCD monitor—torque speed power collector—temperature collector—air tightness detector—test software
Equipment List:
Functional Parts Name/Model Specification/Accuracy Unit Quantity
Power / load frequency conversion motor
YVF2-315L1-4 Rated power: 160KW
Rated speed: 1500rpm
Maximum speed: 3000rpm
Rated torque: 1019N.m units 2
160KW four-quadrant frequency conversion feedback cabinet 160KW (loading the sent electric power back to the active motor frequency converter, which can save 50~70% of the electric energy)
Speed increase Planetary reducer (amplify the load torque to 5000N.m) 1:5 10000N.m set 1
Measuring torque speed sensor
ZJ-5000A 5000N.m 0-3000rpm
Accuracy: torque ±0.2%F.S
Speed ±1rpm Taiwan 1
Torque speed power collector
TR-3S display: torque, speed, power
Accuracy: ±0.05%F.S Taiwan 1
Temperature collector TA-4 display: 4 temperature
Accuracy: ±0.2℃
4 temperature sensors included 1
Airtightness detector, resolution 0.01~0.1KPa set 1
Inspection cabinet Dimensions: length 1200mmX height 1200mmX depth 900mm
High-quality cold-rolled plate 1.0-1.5mm
Appearance spray: blue, gray color set 1
The network communication module WLMK-01 is responsible for: the communication between the instrument and the computer. 1
Industrial computer IPC-510/AIMB-701/CPU-G1620 main frequency 2.7G/DDR3-4G/1T/keyboard/advantech original machine set 1
LCD monitor 21.5 inch set 1
The test software can: measure the input torque, speed and power of the gearbox; output torque, speed and power; efficiency.
Display: parameters, curves, reports, etc., can be saved and printed
Loading: manual, program control set 1
Installation platform Cast iron 1600X5500X200 set 1
Coupling Power Motor—Transition Block—Universal Joint
Universal joint-transition seat-output torque speed sensor-speed increaser-load motor set 6
Universal joint 1000N.m set 1
Universal joint 5000N.m set 1
Gearbox input connection flange (only 2 models are available) 1000N.m set 2
Gearbox output connection flange (only 2 models are available) 5000N.m set 2
Transition seat 1000N.m set 1
Transition seat 5000N.m set 1
Center high horn motor X2, transition seat X2, torque speed sensor X1, speed increaser X1, gearbox X2 under test (only 2 models available) Set 8
Power module pad set 1
Loading module pad set 1
Standard parts, horns, etc. 1
Protective cover 1
After-sales: Three packs of 15 months from the date of shipment.
Delivery time: 60 working days.
【Refresh】
【Favorites】
【Print】
【Close】
Previous:Automobile chassis dynamometer Next:PTO test bench (click to enter)